Philippines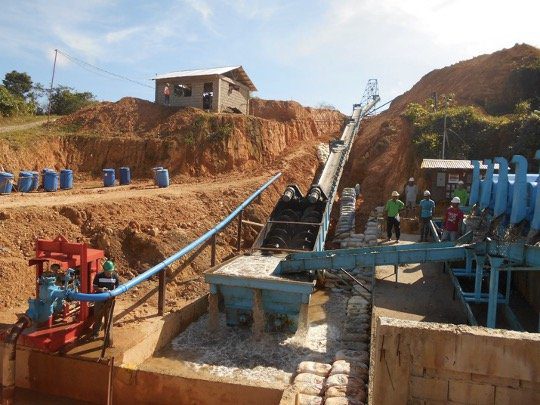 In partnership with KSA Quarrying & Aggregate Co. Inc., Angkor subsidiary Philippines Environmental Recovery Inc. (PERI), is participating in a 50/50 profit share venture to clean out sand/silt to provide marine passage and prevent flooding in the Malaguit River, about 8 hours east of Manila. The 10-year permit allows the licensee to retain all revenue from sales of all resource material from the dredging operations.
The operation consists of a sand-dredging plant, rock stockpile area, siltation ponds, clean water return channel, on-site assay laboratory, finishing equipment for dore bars, vehicles, infrastructure, and accommodation.
Historical data indicates the river sits on a well-known placer gold-bearing plain across the Paracale district. Past assays completed by Intertek for KSA, but not independently verified by the Company's QP, show multiple sand/silt samples taken on the river return grades of 0.05 gpt to 1.8 gpt of gold.
The Natural Resource Department of the Philippines government provided estimates of 17 million square meters of quality sand to be removed from the permitted Malaguit River area and adjoining flood plains. Long term sand buyers have completed testing and the sand surpasses requirements for both base sand and construction sand. Buyers of the sand are completing public works projects for the government over the upcoming ten years for reclamation and construction.
The project adds additional economic support and small business development opportunities for value-added products including cash crops, fish farms, fertile silt, magnetite, and water.
Significant environmental benefits include sand/silt removal resulting in reduced flooding and displacement of persons and agriculture/food chain supply crops.
Following the refurbishment and rebuild of specific components, sand sales will commence, and gold recovery will be added thereafter.